Renaissance Figure manufacturers in 28mm/25mm
This Madaxeman.com's directory of suppliers of 28mm/25mm Renaissance Figures.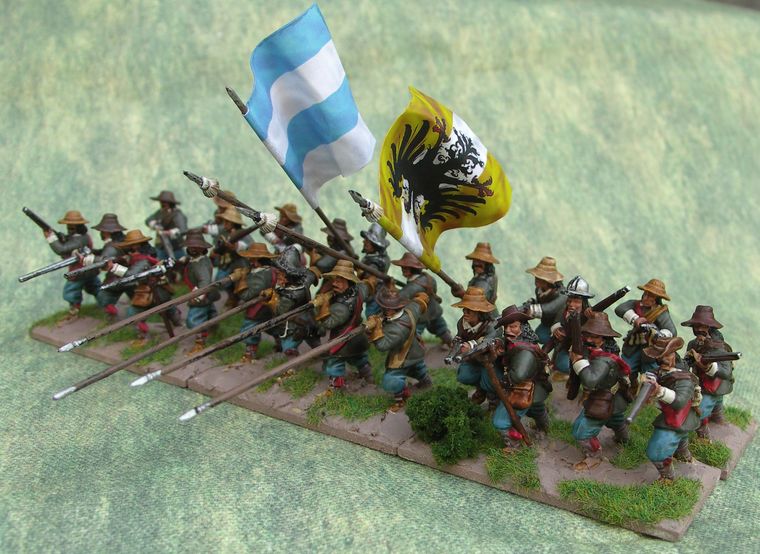 If you are looking for 25mm or 28mm ECW, TYW, Polish, Ottoman, Samurai (with guns), Dutch, Restoration British, Swedish, Tatar or French Wars of Religion wargames figures, you've probably come to the right place. This page has details of the ranges carried by ALL the 25mm and 28mm Renaissance suppliers I can find. For each supplier there is a listing of the categories of figures they have (which gets messy in this era, as one man's TYW infantry are another man's ECW, but perhaps then a third totally theoretical man might even argue tha they are actually quite different...). It also has some detail on how each company packages their figures (singles, packs of 8 etc), details on how you can order from them, and a link to their site. The information on this site was hopefully correct when I created it, and I do try to keep it updated but please check shipping rates and quantities yourself when ordering. if you see anything that needs changing, please tell me via the email link on this page
You can also rate any of the manufacturers - please do vote on those you have figures for as this helps other gamers decide what to buy.
I have deliberately omitted listings for the "Late Medieval" and lots of the "Generic Eastern Islamic/Horse Nomad" armies as otherwise this listing would start to become an "ancient Islamic horsemen" listing and go on for ages.
Whilst in the real world people are all different heights, weights and shapes - and in the Renaissance this natural variety probably was even more pronounced - in the world of 25mm & 28mm figures there is some generally recognised height differences which make mixing figures in the same unit sometimes a bit difficult. I have therefore tried to make a note of what size the manufacturers themselves describe their figures as being, and also drawn information from postings on TMP and other sites to give a subjective view on scale comparison. Whether this is accurate or not is debatable, so do your own research too - but it's a start
There are similar directories for
This site also has pages with eBay auctions of various Renaissance figures here
Who am I missing? Mail me to tell me at website.mail@madaxeman.com
---
---
The 28mm/25mm Renaissance Figure Manufacturers Listings
Bicorne make an English Civil War 1642~1651 range, and a Connisseur Early Italian Wars range too
Bicorne Miniatures was established in the late 1980s and in November 1999 the business was taken over by Andrew Barrett, restarting production of some of the figure ranges. The website says that the ECW figures are compatible with Renegade English and Redoubt ranges, and they market themselves as 25mm. The business was then taken over by a new set of people in 2014, meaning the production of the ranges has re-started and some new figures are on sale for the first time in many years, including some new packs in montero and monmouth caps, specifically for the Royalist Oxford Army. This has also led to a revamp of the website, which is modern and clean-looking with good photos of most of the ranges.
As well as generic troops for both Parliamentarian and Royalists they have Irish, Covenanting Scots, Covenanters, Personalities/Generals and some civilians - plus a range of wagons. The Italian Wars range is relatively small in number, and covers Swiss, Italian, Spanish, Landsnecht and French
They also sell separate heads for those that want more variety of hats in their armies, and GMB flags for those who want, erm, flags
The Italian Wars figures are sold as singles, the ECW ones in packs of 8
---
Eureka of Australia make a number of interesting ranges for the period
The website has pictures of almost all of the figures in the bare metal
Their ranges are listed as 28mm and include Colonian Portuguese and South American Tupi, Aztecs, Conquistadores, ECW (which are all Scots), Italian Wars Gendarmes (only), Pirates, North Anerican Indians and Samurai.
The Australian site sells figures as singles
---
Brigade Games.com are a US based manufacturer with some late Renaissance ranges
They carry figures for Swashbucklers & Musketeers, Pirates, and North American Indians in a strangely named King Philip's Wars 1675-76 range
The ranges sell in packs of 5 or 6 figures, but there is no scale information on their site
The website has pictures of nicely painted versions of almost all of the figures
---
Dixon are a classic UK manufacturer witha long history, founded in 1976 and still owned by the founder Trevor Dixon.
The website has not really enough pictures of the figures, but they are well regarded, cleanly cast and cute
They have an ECW range, as well as Samurai, Pirates, Marlburians (at the back end of this period maybe), Louis XIV and League of Augsburg, Ottomans, Plains Wars Indians who may well also work in this era and Border Reiver Scots
The ranges sell in singles generally. Some of the sizing is a touch variable between ranges, and the ECW range are definately on the short side compared to others based on ths I have. Very clean and straightforward figures
---
Essex have a vast range of figures in 15mm and 25mm, although their dominance in 15mm means the 25mm ranges are sometimes overlooked. As with the 15mm ranges their figures are always to a good standard, take paint nicely but are sometimes accused of lacking a little in personality and animation. They are marketed as 25mm, and have a high degree of consistency and compatibility throughout the entire range.
In their Renaissance ranges they have separate ranges for Late Medieval / Early Renaissance (Swiss, Landsknehcts, Gendarmes), ECW, 17th Century (iwhich is actually League of Augsberg), 1665-1700 European (a small range of TYW to add to the ECW) Cossacks, Early TYW Dutch, 1600-1640 Europeans (which look to be exactly the same as the 1665-1700 ranges by the photos on their website), Mameluks, Ottomans, Peersians, Poles, Russians, Spanish (early, so sword and buckler era), Tatars.
They also have a Coonial range of Mahdists and Sudanese which would suit these armies in the Renaissance too
Essex sells 25mm figures as singles
The brand-new and updated Essex website has a full listing of figures, with a very complete set of pictures of all the figures, usually painted but some in bare metal.
---
Eagle Figures (in the UK) was relaunched by Stewart Black and Alan Mercer, succeeding the Eagle Miniatures which first started trading in the 80's. The existing figures and ranges are progressively being brought up to date, including a 28mm English Civil War range. The business is very much run as a part-time garage business, which the owners freely admit means that from time to time orders might not be processed as quickly as they might like. They exhibit as some UK shows and mail to customers across the globe.
They currently have a 10-figure ECW infantry range in 28mm, as well as Mughals
The ranges sell as singles, and there are pictures of all the figures on the website
---
A venerable range of 25mm figures now owned and produced by Caliver Books in Nottingham. Minifigs own ranges in the Renaissance include ECW, TYW, an earlier "Renaissance" range covering the French Italian Wars (with Swiss and Landsknechts), Poles, Ottomans
Minifigs also sell the Matchlock Miniatures ranges, which are being gradually brought back into production and currently consists of a 28mm ECW offering for this era and scale.
Minifigs have been around since before I was born (-ish) and some of the castings are starting to show their age. The lack of raised, dry-brushable/inkable detail on many of the figures looks very, very dated. There are almost no pictures of these ranges on their site
Supplied in singles
---
UK-based Empress Miniatures have a new English Civil War range of 28mm figures, sculpted by Tony Boustead. The range has been commissioned/sponsored by one of their customers and is designed based on recent research on costumes and equipment. Initially covering troops from around 1630 to 1644 Empress have plans to eventually move into 1645 and beyond, thus covering later period types such as the New Model Army.
The figures have deliberately been designed to have clothing that has a significantly earlier style to it than many ECW ranges, with the commonest head wear being knitted wool Monmouths and English bonnets giving both armies a very civilian look suitablel for the early ECW
The first releases are infantry, both pike and musket, plus the first artillery piece, a Saker. These releases will be immediately followed by many others including another Saker and crew as well as lots and lots of cavalry. In the middle of all this will be personality groups. The site has pictures of the troops in bare metal
They also have a 28mm range of Abyssinyans for the war against Italy, which are way out of period but may do for some late Renaissance armies anywaySupplied in singles and unit packs
Supplied in singles and unit packs
---
Foundry Miniatures are for many people The Daddy of 28mm wargaming figures, having started making miniatures in 1979 and ending up with a range of over 25,000 different figures across loads of periods. They also have the Foundry Miniatures / Kevin Dallimore painting system with over 350 different colours and shades of paint.
Ranges include Aztecs, Inca, Darkest Africa, Conquistadores and Pirates, Elizabethan English, ECW (including Germans and Swedes for TYW), Markburian, Samurai, a Renaissance range of Landsnechts, Spanish, Poles, French Gendarmes and foote, Germans, Italians, Mercenary Knights and Balkan Stradiots plus some Swiss in a medieval range
The website has some great pictures of the painted figures for all of the ranges - almost with a look for the eye candy alone
Supplied in unit deals and blister packs from a great web store or a shop at St Marks Street, Nottingham
---
The Front Rank Figurines team of Alec and Angela Brown designed and manufactured figurines in 28mm and 40mm, including a Late C17 range for this period. In 2021 Alec and Angela retired, which saw ownership of the ranges move to Gripping Beast, who continue to cast and sell the figures under the Front rank brand
The large Renaissance range covers 1685-1700 which are suitable for the Monmouth Rebellion 1685, The Irish Wars 1689 to 1691 & The War of the Grand Alliance 1689 to 1697, with some figures cast with a range of different heads and hats for extra variety.
They also have a range of personalities, and the site has pictures of the troops in bare metal and many nicely painted examples too
Front Rank offered Special Deal Packs and Battalion Packs, and had a discount scheme too - whether this will continue in the future is down to GB.
---
Irregular Miniatures make figures in a range of scales, all designed by Ian Kay. This UK company are based in York and attend a number of shows throughout the UK each year. Their Renaissance range is marketed as being 28mm. The figures can look a little dated when set against some more modern manufacturers
Renaissance ranges are sold for Late 1400s - Early 1500s, Landsknechts, Europeans (Early - Mid 1500s), Europeans (Late 1500s), Europeans (1600 - 1660), Cavalry (1408 - 1660), Poles, Russians & Eastern Europeans, Ottoman Turks (1400 - 1606), as well as a range of Pirates, Marlburians, and a lot of Eastern nations like the Burmese and Khmer, Indians, Mongols and Arabs, and Siamese/Laotian
The site has a smattering of photos, but by no means a full set for the ranges.
They sell single figures as a the default, with army packs and special deals as well.
---
Artizan Designs produce a range of 28mm figures - they are sort of a sub-brand of North Star in the UK
Renaissance ranges Landsknechts and Swiss (including artillery), but they also have Pirates, and some Moroccans from a later era who might just about do
The site has photos pf painted and unpainted figures for all ranges.
They sell figures in packs of 8, and also do "Army Builder" deals for larger groups and units.
---
Outpost are a Scottish manufacturer with an eclectic mix of ranges and scales - their philosophy has been to try and produce the ranges that the 'big boys' ignore. Outpost market their figures as 28mm
Renaissance ranges are from the Americas with armies for the Aztecs, Conquistadors, Tlaxcaltecs, Tarascans, Huaxtec, Mayans, Inca. They also have a remodelled Highwayman range which might provide some interesting tricorne-hat-wearing figures too.
The site has some photos of painted figures.
They sell figures in packs of 8, and also do unit pack deals for larger groups and units.
---
As well as the Artizan ranges produced under license, North Star have their own range under the banner Sixteen Seventy-Two, the year Louis invaded the Dutch Republic. The range was originally part of Copplestone Castings, and it was titled Glory of the Sun - the first 26 packs were designed by Mark Copplestone.
The range is substantial covering foote, horse, gunnes and personalities such as Monmouth and Churchill
The site has photos of unpainted figures for the whole range, and promotes them as 28mm - they come with mixed heads.
They sell figures in packs of 6, and also do some scenery/field fortifications.
---
UK-based Lancashire Games have only one Renaissance 25mm range of figures, Ottoman Turks
The range is fairly small, with just 5 packs of figures (although with figure codes going up to 14, so not quite sure what happened there)
The site has photos of unpainted figures which are sold in packs of 4 (with variants in each pack)
---
Old Glory has a massive range of figures, marketed as 25mm.
Ranges exist for ECW, Jacobite Rebellion, Pirates, Persians, Marlborough, Wars of Religion 1550-1600 featuring Landsknechts amongst many others, Poles, Muscovites, Cossacks, Ottomans, Hungarians, Croats, ECW Scots, some North American Indians, some Indian Mutiny Colonials that may work in period too.
The US site has photos of unpainted figures which are sold in packs of 30 or so - many variations per pack usually - and they offer army deals as well. Old Glory UK has more pictures of painted miniatures too but still sells in the packs of 30
---
Pro Gloria figures were originally manufactured by a German designer - the range covers 28mm C16 figures, especially Landsnechts.
in 2014 the range was bought by Warlord Games (see press release) although the owner will stay involved to keep the range growing. As well as Landsnechts, but they have some nice civilians (even a dancing bear!) and personalities too
They sell in packs of 8 foote and have unit deals as well. The Warlord Games site now has photos of the figures very nicely painted. As they are sculpted by someone else to Warlords main C17 ranges they will keep their own listing here.
---
Thistle & Rose Miniatures is a US-based company who have recently been acquiring the rights to produce a number of ranges previously held by other manufacturers.
For the Renaissance era they have the Vendel (previously Bloody Day, as sold by Sgt Major Miniatures for a time) brand of 28mm Elizabethans, as well as Border Reivers and C16 Irish.
They currently sell in packs of 8 Foot and 4 Mounted available directly from the Company via email. Payment via Paypal.
Plans are to sell in unit packs for Pikeman's Lament. Figures are modelled on figures in Border Reiver and Irish Wars Osprey books.
Border Reiver mixed skirmish game sets are still available but will also transition to smaller family sets.
---
Brother Vinnie's figures are sold both by Brother Vinnie himself in Hamburg, Germany and also by Siberia Miniatures who are, well, from Siberia! Amongst other less historical ranges Brother Vinnie's sell a range of castings which covers the Landsnecht part of the Early Renaissance, with one of the few left-handed arquebusiers out there included in it.
The site is in English, and has nicely painted pictures of each of the 15 or so figures in the range - they are promoted as being 28mm
They are 5 Euro's a piece and can be supplied painted as well. The site sells in low enough volumes not to warrant a cart, but does take Paypal. Impressive looking models too...
---
Tiger Miniatures are a 28mm manufacturer counting a growing Mercenary/Swiss/Landsknecht range with both foote and horse for the Early Renaissance - the listing has space for extra packs in future
They have a mix of painted and unpainted miniatures shown on their site. In the US the range is carried by Recreational Conflict
They sell in fairly large multipose packs, or 10 or 20 or so foote, with a site taking Paypal and the usual online options.
---
The Perry Twins are two of the most renowned and prolific sculptors for the miniature wargaming hobby. They have worked for Games Workshop since 1978, sort of founded Foundry and did many of their early ranges and now have their own company selling metal castings and also branching out into plastics
In the Renaissance they have metal ranges for Samurai, Korea, European Armies 1450-1500 (which match the plastics, and will squeak into the early part of the period) ECW Royalist or Parlimentry which also suit other European nations and early American settlers - the musketeers are generally wearing broad-brimmed hats, monteros, monmouth caps and 'pound' hats so some are also definately Scots.
There are two sets of multipose plastics - WR20 Plastic 'Mercenaries', European Infantry 1450-1500 which have been used for Early Swiss by many people, and WR 40 Mounted Men at Arms 1450-1500 which seem to come with enough armour to have a reasonable stab at being Early Gendarmes or European horse.
The plastics are around 40 foot or 12 horse per pack, with the metals coming in packs of 6. They also sell accessories, which most notably include pikes, or separate heads to turn the plastic infantry into Swiss.
---
UK-based Redoubt cover a good number of Renaissance sub-periods with their 25/28mm (their own description..) figures, and they do have a large range of interesting extras and unusual figures suitable for making up a baggage diorama too.
The core is of course the ECW, where they have a large range covering both teams and the Scots too, some which come with separate heads in a deliberate attempt to make them morph over to the TYW as well. Some of the Highlanders are hidden in the Specials section of the listings. They also have an Early Italian Wars range, a Renaissance range) including the C15/6 European armies built around a core of Landsnechts and Swiss, Turks, Moors, Irish, Elizabethan/Henrician English and some Hungarian/Eastern opponents for the Turks), The Three Musketeers, Pirates, French and Indian wars ranges which might work in this period too, Sudanese and Boxer Rebellions (both technically out of this period, but may have useful figures in them)
They sell as singles, but also offer Regimental deals
---
Reiver Castings are sold by Under the Bed Enterprises and made at their UK factory - they can be seen on their trade stand at shows too.
They have a number of ranges in and around the Renaissance period, starting with Anglo-Scots Wars (1513-50), Thirty Year's War (1618-48) an Late C17/Early C18 Wars range with Jacobites, Prussians and German States, British, Williamite Dutch, Covenanters, Austrians, Covenanters, Charles II, Swedes, Russians and Louis XIV French - which includes personality figures, casualties and even fortifications. They also sell (I think) the Beneath the Lilly Banners ranges - the website isn't exactly clear on whether Under The Bed sell both Reiver and the LoA ranges, or of they actually are the same figures with different branding - or just some Riever figures packaged for the rules.
The website is rather confusing - much easier to download the PDF catalogue of 28mm figures - which seems to say that the figures are sold in unit packs of 4 mounted or 10 foot, all for GBP10 each pack. The site has no online e-commerce shopping system, so you probably have to email them an order and pay by Paypal, as they do not appear to take credit cards.
---
As of December 2014 Renegade have re-opened for business after a hiatus due to the owners other commitments.
Based in the west of England, Renegade Miniatures have an ECW range for both sides and the Covenanters too
Sold in blister packs or in "Regimental Deals", the figures are sold as 28mm, and the ranges are divided into Pike, Shotte, Cavalry Artillery and Covenanters. The website has some pictures of painted figures, and photos of almost all of the ranges in unpainted versions
The figures are sold in blisters of 8 foote or 4 horse at GBP 12 a pack. They also occasionally have multipack deals too. The website is a proper e-commerce one with credit cards and paypal payment.
---
The Assault Group, or TAG as they are known colloquially describe themselves as being in the business of making niche market miniatures, and over the last few years these niches have been almost exclusively in the Renaissance period - and even within the period they are aiming for some of the less popular figures. This means that - unusually - they have steered clear of English Civil War, and don't have mid-period Landsknechts either.
They still have managed to conjure up a vast range of figures though - the armies TAG currently cover include; Albanians, Aztecs, Cossacks, Croats, English, German, Hungarian, Italian (Italian Wars), Neapolitain, Ottoman Turkish, Polish, Russian, Scottish, Spanish (Conquistador and C16), Swedish, Tatar and Tlaxcalans, plus a medieval Asian range of Mongols, Samurai, Song, Tang and Sui Chinese. At present there are about 250 packs or approximately 1000 different miniatures, as they maye a point of having multiple poses for each figure code. Sculptors include Nick Collier (Cossacks, Croats, English, German, Hungarian, Ottoman Turkish, Russian, Scottish, Spanish, Swedish, Tatar), Mark Sim (Aztecs), Alan Marsh (Tlaxcalans)
The website is great - pictures of all of the figures in unpainted form gives a clear view of the castings. They are regarded as being a little large even when set against other 28mm figures, and sell in packs of 4 foote or 3 mounted, with unit packs as well.
---
Tin Soldier's 25mm range of Aztecs and Samurai are sold as single figures with 23 Samurai and 20 Aztec figure codes. They also have a 23-figure ECW range.
The website has photos of the figures in the bare metal, and an online cart system to order.
---
Warlord Games are one of the pioneers of plastic 28mm figures, and have developed a very handy core range of plastic multipose ECW/TYW foote and horse which has gradually been supplemented by metal figures and additional components that add variety and flesh out the range to include other nationalities.
They have also extended their own offering by buying the Pro Gloria C16 Landsnecht range, and the Arsenal Miniatures 28mm 'Revenge of Christendom' range of figures (see below).
The basic Warlord Renaissance plastic range is based on only 5 or so different sprues, which from memory are a Pike and Shotte sprue with 5 pikeman bodies (2 standing, 3 thrusting) and 8 musketeers (4 standing, 4 advancing/running), a single running figure with firelock and two sets of arms, a sprue with three commanders/drummers on foote, a sprue of riders (with a range of hats and helmets) and a sprue of horses. This means the Royalist and Parliamentarian cavalry sets are exactly the same except for different flags, and the Scots and also the TYW infantry are the basic sprues with a couple of metal officers and some extra bonnets or helmets added into the box!
The Highlanders for the Scots are a range of all metal figures, and there are now plenty of other personality sets and low-volume specialist sets as well as some resin models for things like artillery gunnes - recently they have added some Polish Hussars to the range too.
In 2013 Warlord purchased the rights to an "almost in production" range from Arsenal Miniatures, a 28mm 'Revenge of Christendom' range of figures sculpted by Paul Hicks. They cover both sides at war Malta during the great siege of 1565, and will be useful for other similar era armies. They are due out fairly soon (late 2014)
The website is very clear as to what is in each box, and is very professional. The Batallia box sets are especially good value.
The plastic figures are widely available through many online and bricks and mortar retailers as well as on eBay and Warlord Games' own site
---
Musketeer Miiatures are now known as Footsore Miniatures, and are a UK-based 28mm manufacturer with a US manufacturing base as well, and 2 ranges which just about sneak into the back end of the Renaissance era, Great Northern War Swedes and Russians.
Covering the Armies of Peter the Great and Charles XII of Sweden during the Great Northern War 1700-1721
The figures weree sold in packs of 4 foote or 3 mounted, as well as unit deals. They are getting up to speed in re-reeleasing these ranges, so eventually will have pictures showing painted or unpainted versions of the figures. The website has the almost-standard Paypal-based cart and ordering system.
---
The "other" pioneer of plastic figure manufacturing, Wargames Factory no longer exists as a separate entity having been bought out by Warlord Games after a rather troubled history. For the Renaissance era their ranges include Samurai (now repackaged for the Test of Honour game under the Warlord games banner) and a generic War of Spanish Succession range.
The WSS range is now listed by Warlord as "Marlborough's Wars" army pack, or Wars of the Grand Alliance/Wars of the Sun King infantry and cavalry ranges. There is actually only one box/set of sprues of Infantry and one of Cavalry and a box of Artillery that as usual for Warlord come woth different flags in each range. The infantry box has 24 figures of which most are single piece bodies including arms that only require a head to be attached, with another sprue which can be built using a set of legs and four unique torsos including two officer sashes, one regular trooper, and one reversed chest strap to build a drummer. The poses of the single-piece figures are very static marching poses.
The mounted pack has 12 horses, 12 sets of legs for the riders and claims over 50-torsos (including armored torsos for cuirassiers) and over 60-heads (including tri-corn, helmeted, grenadier and dragoon headwear), plus arms with pistols, muskets/carbines and/or swords.
Their artillwer for thw WSS range is also plastic with 8 crewman and 2 senior officers on horseback, bases, cannonballs, powder barrels, water buckets and more - the cannon can be assembled using either the 12 pounder barrel or smaller 8 pounder.
The Samurai are from the Warring States or Sengoku period of Japanese history in the 16th Century. Originally there were 4 sets in this range - Samurai came with 5 sprues of 5 Samurai with weapons and accessories for a total of 25 figures, a pack of 25 Ashigaru with Spears, another with 25 Ashigaru with bows and arquebus (up to 20 arquebus soldiers and 5 bowman or 20 bowman and 5 arquebus soldiers) and a mounted pack with 12 multi-part mounted samurai and their horses armed with a mix of weapons, making up to 12 Spear men (10 yari & 2 naginata), 6 bowmen, officers, separate heads and datemono (helmet devices), 12 Sashimono (the flags worn on the back), 6 Horo (protective "cloaks" tied to the back) and Sode (shoulder armor) for all 12 riders. Repackaged for Test of Honor, the range has been extended with some meal figures too
They can be bought from Warlord and like most plastic manufacturers they are widely available on eBay and via online and bricks and mortar retailers.
---
The Beneath the Lily Banners rules are highly regarded for WSS-era gaming, and the BLTB website is now home to an impressive range of WSS-era figures suitable for many of the armies of this conflict - and the Jacobite wars - under the Warfare Miniatures brand.
These 28mm metal miniatures have almost 100 different packs of foote, mounted and artillery, including personality figures and accessories, with a continuing programme of new releases adding to the breadth of the range all the time.
The website has pictures of all of the models , almost all of which are painted. They also sell flags for the main protagonists as well
The figures are sold in packs of 5-6 models, or in unit packs as well
Full-service e-commerce on the website.
---
Lead Adventure Forum are a German-based organisation selling the bordering-on-the-surreal Militia of Bruegelburg / Landsnecht range from Ratnik Miniatures, which they manufacture under license, and which are sculpted by Igor Karpov. Slightly cartoonish, and packed with more personality than a very charismatic thing stuffed full of charisma and ideosyncratic bonkersness, the range has civiliians and Landsnecht-esque soldiery all shown in glorious technicolour on their website.
28mm metal miniatures, they are sold in packs of 2-3 figures for around 8 Euros per pack, and they do have larger bundle deals as well.
Successive waves of figures are being released and are regularly discussed on the Lead Adventure Forum
---
West Wind sell a range of 28mm Samurai, with 20 different packs of foote and mounted
They also do separate heads which can be added to give more variety to the figures. Offered in packs of 10 foot or 4 mounted, the website has pictures of the unpainted figures.
The figures are available from their e-commerce website and from other retailers around the world
---
1st Corps have one range of European 28mm figures for this era - plus some earlier C12/C13 samurai that you might also have a look at if you are as much a morpher as I am. The same company also trade under the Curteys Miniatures name - see their listingfurther down this page for the Burmese & Thai, (early) Samurai, Chinese Pirates, Tibetans and Sung Chinese.
The main Renaissance range is for the TYW, with Swedish and Imperialist figures sold in army deals, unit packs and smaller reinforcement packs too - there are 20 packs in the range, including a very nice Gustavus Adolphus.
The site has photos of a mix of painted and unpainted figures for the ranges.
---
Horcata are a Czech company recently started by a gamer who had a dream of producing figures - and who managed to actually do it by commissioning the renowned miniature sculptor Paul Hicks. Their ranges are generally connected with the Czech history, and so for the TYW the figures are Bohemians, although would work well for most other armies I suspect. The owner also has a blog with details of upcoming releases
The TYW range has 25 infantry and 10 cavalry, all sold singly.
The site has photos of a mix of some painted and mostly unpainted figures for the ranges.
---
Curteys Miniatures have some esoteric ranges for this era, including Burmese & Thai, (early) Samurai, Chinese Pirates, Tibetans and Sung Chinese. The same company also trade under the 1st Corps name - see the separate listing for their TYW ranges further up the page
The website has a good simple navigation system in the shop, with pictures of painted miniatures for most ranges.
---
Hinchliffe were one of the original 25mm figure manufacturers along with Minifigs, and sort of emerged from Ral Partha in the dim and distant past of wargaming in the UK. The brand and mould lines were both acquired by Hinds Figures Ltd in March 2008 and now everything Hinchcliffe is done by them. They claim to be able to still supply all the 25mm Hincliffe ranges of figures.
The Hinds site is geared towards their 2nd hand figures and painting businesses, but you can also download a Hinchcliffe catalogue (as an excel file) that lists their ranges and the current Hinds stock of painted figures. Whilst some of the lines will not have aged well against the newer more detailed and "heroic" 28mm scale figures out today Hinchclifffe were by no means poor figures in absolute terms and some ranges will have stood the test of time well no doubt
The spreadsheet lists a 15-strong Samurai range, and 107 other Renaissance infantry figures ranging from Poles and Cossacks, Ottomans, Russians, Landsnechts, Swiss, Spanish, Burgundians, Teutonics, plus 78 cavalry for the same nations and a load of baggage and equipment. The ECW is covered with 102 horse and foote plus again assorted guns and oddments. There is also a small Marlburian range. All figures are available as singles
---
Gringo 40's are a newish company who started out with some 40mm Wild West ranges but have already branched out into 28mm Mayans and Conquistadores as the first installments of a planned Mesoamerican Wars range. The first wave of Mayans will be released at Salute 2013 in London, and they already have mounted Spanish and artillery and equipment covering all types used by the Conquistadors, plus a war wagon will all be released soon after
The other 28mm ranges they sell are priced as singles, and it appears that these are too.
They have shown some photos already on TMP of the Mayans.
---
UK-based Scheltrum offer a number of unusual ranges of buildings and ships, but in terms of figures they also fill in some unusual gaps too. These include Woku Pirates, Koreans, Ming, Samurai, and some Medieval Scots.
Sold in packs, usually of 8 foot, there are very few photos on their site at the moment
---
Warrior is a Scottish company with some fairly old-school ranges, including Border Reivers, Samurai, Landsnechts, ECW, a handful of 1550's English,Scots, Irish and Spanish, and some Jacobites and Pirates.
Sold as singles, there are a limited number of photos in a gallery section on their rather creaking website
---
Indus Miniatures have a 28mm range which covers a variety of wars in India across the ages. For the Renaissance period they have some specific Rajputs, Silaposh Guards from the 1650's, Marathas, Baluchi Tribesmen Rocketeers and Ghazi' as well as armoured Elephants, as well as some "will do from other eras" figures - some can also be used as North Africans. The elephants are partly resin, partly metal and you can buy your own crew!
The website has photos of the figures, painted and as Greens, and an online cart system to order, with prices in US Dollars as the figures and made and therefore shipped from the US.
---
HokaHey have picked up the range of Elizabethan figures originally designed and carried by Pendraken
The comany are based in the North east of the UK, and also make custom terrain pieces too
There are 38 foote, 14 mounted with some gunnes too. The site has photos of some of figures, which are sold as singles. You need to contact them for payment and postage terms
---
Cran Tara are a boutique manufacturer who make "1/56" scale figures (which they say are approximately 30mm in height) sculpted by Richard Ansell. The comany focuses on figures for the '45 rebellion (jacobites, Government Troops) and also some Elizabethan Irish and Border Reivers
The '45 range is pretty substantial, and their site has photos of nicely painted figures for most ranges. The owner also keeps a blog with news of new castings
---
Crusader Miniatures are another brand produced by North Star. Their only Renaissance range are Pirates
---
Italian manufacturer Mirliton have a range of 25/8mm Swiss, Condottieri, Landsnechts and Italians from the XIVth century. There is also a Florentine Soccer Tournament range (honestly...!)
Sold as single figures, priced in Euros with pictures of all figures either painted or unpainted on their site
---
UK manufacturer Parkfield include in their roster several Renaissance ranges, from Swiss, 1494-1544 Italian Wars, C17 North American Indians and Settlers, Pirates, 1688-1690 Revolutionary Wars and a GNW range at the far end of the period too. They are deliberately 25mm rather than 28mm
Sold as single figures, and they have pictures of all figures either painted or unpainted on their site
---
El Kraken are the publishers of the Tercios rules, and currently (March 2016) they also have a fully-funded Kickstarter for a range of 28mm Spanish TYW figures. Their aim is to focus on Seventeenth Century, starting with Spanish Tercios (of course). The miniatures will be produced in quality metal (old school!). The range includes horse, foot and guns.
North Star sell the rules in the UK, so presumably may end up selling the rather impressive looking miniatures too.
---
Steel Fist Miniatures is a boutique casting house which specialises in producing high quality 28mm figures representing the commanders of various periods. Their ranges are Later Medieval 1460-1490, Sengoku era Samurai and Italian Wars 1494-1538, These figures have greater detail than many other 28mm miniatures and wear elaborate or unusual armours..
Oliver is the sculptor and started up the business around 5 years ago, to offer his excellent sculpts, derived from his passion for historic armour. Most of the figures have separate heads and weapons. That makes the figures a rather scary £2.50-£3.00 each for dismounts and £5-6 each for mounted - but they are pretty cool.
---
go to top of page
http://www.steelfistminiatures.com/
This site has several pages of photos of some of these figures;
UK eBay Auction Listings viewable on Madaxeman.com
The following pages are all on Madaxeman.com, and show live listings from ongoing auctions for 28mm/25mm Renaissance figures on eBay UK
Pageloads so far for all of the figure directories pages on this site: View Traffic for these directories